VEON Embraces Virtualization
In 2015, VEON proposed the One Common IT Stack strategy to unify the 14 networks in 14 countries into one network. VEON proposed this strategy not only to weaken the impact on the OTT service, but also to adapt to the explosive growth of network data traffic in the mobile Internet era, to provide users with better experience, and complete the strategic transformation from a pipeline provider into a service provider. The cooperation in virtualization between VEON and ZTE began in Q4 2015 in the vEPC project in five Asian countries including Kyrghyzstan and Laos. This project is VEON's first step to achieve strategic transformation, and also a landmark example of large-scale commercial use of the vEPC around the world.
VEON is one of the mainstream mobile operators in Russia, with 205 million users covering more than 20 countries. The group's brands include Beeline (Russia and CIS), Kyivstar (Ukraine), Wind (Italy and Greece), Djezzy (Algeria), Mobilink (Pakistan), and Banglalink (Bangladesh).
VEON and ZTE Successfully Put the vEPC Into Commercial Use
By working with ZTE, VEON built a complete network based on the virtualization technology in Kyrgyzstan, Laos, Armenia, Uzbekistan, and Tajikistan in 2016 to provide users with 2G, 3G, and 4G services. In this project, ZTE's vEPC solution is based on the deployment of IT hardware such as HP C7000 blade servers. ZTE TECS is responsible for the unified VM management and scheduling of IT hardware in the project, forming a unified external basic resource interface. ZTE's vManager cloud management system provides comprehensive support for the efficient O&M of virtualized networks. This system involves two functional components: NFVO and VNFM, and manages all the virtual NE instances of the core network, for example, vSAE-GW, and manages lifecycle. The basic hardware resource pool is shared. The software of different service functional modules including vMME/vSGSN, vSAE-GW, vCG, and vEMS is quickly deployed in the virtual network to meet user communication requirements. For example, multimedia services are provided.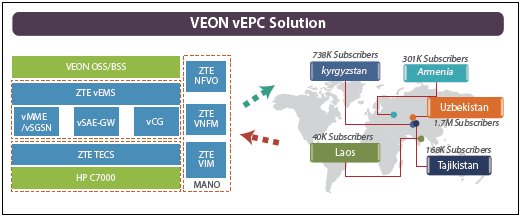 VEON uses ZTE's virtualization technology to transform the networks in the five countries into a software-driven light network. ZTE's deployment solution has the following characteristics:
Open:
◆ ZTE has joined more than 70 standardization organizations, and is Openstack's gold member, OPNFV's platinum member, OPEN-O's platinum member, and OpenDayLight's silver member. ZTE has conducted all-round cooperation with the mainstream manufacturers in the industry such as HP, VMware, and Redhat.
◆ ZTE provides native APIs to achieve seamless interconnection to third-party hardware facilities.
Mature:
◆ For this project, ZTE conducted a six-month test to verify the contents including NE template management, fast automatic service deployment, live migration of VMs, dynamic scale-in and scale-out, and fault recovery. There were more than 500 strict test items, and all of them passed the test the first time.
◆ The solution enhances performance, reliability, security, and O&M and meets the O&M requirements for commercial deployment. Through a variety of optimized methods and technologies, it has met carrier-class high availability requirements.

Project Implementation Effect
The deployment of the ZTE NFV solution will allow VEON to open the underlying network and greatly drive Internet service innovation and flexible deployment based on the IT-CT converged architecture. In addition, the ZTE NFV solution unifies IT infrastructure equipment, supports service and hardware decoupling, achieves the fast automatic deployment and elastic expansion of services, improves resource use efficiency, ensures the system responding speed, shortens service deployment and expansion periods, and helps VEON reduce the overall TCO by 30.4%.

VEON, ZTE Inks Global Framework Agreement
In April 2017, ZTE successfully finished the 7-country NFVI & vEPC vitualized project test with VEON in Russia, and nearly 1400 test items were all passed. After that ZTE and VEON signed a global framework agreement on network function virtualization infrastructure (NFVI) and virtual evolved packet core (vEPC), creating a new era of cooperation in virtualisation technology innovation.
According to the agreement, ZTE will become a supplier to the VEON group for NFVI, and will deploy large scale NFVI as well as vEPC networks in several countries, including Russia. The cooperation between the two parties will effectively promote VEON's NFV strategic planning and digitalisation initiative.