Cephalocon is a global ceremony for Ceph developers, users and fans, held by Ceph official community. The first Cephalocon was held in March, 2018, attracting over 1000 people. The second Cephalocon will be held in Spain's art city: Barcelona. As this summit is seamlessly connects with the largest summit in Container field: KubeCon + CloudNativeCon, the participation and the diversification of speech subjects is better than the first summit.
Ceph,born in 2006, which is considered as the default storage BE of OpenStack has gradually been known by the public since 2012, now it has become one of the popular distributed and uniform storage solutions.
Ceph not only supports traditional block and file storage protocols, i.e. SAN and NAS, but also supports new object storage protocol, i.e. S3 and Swift, which enables Ceph theory to meet all mainstream storage applications. Besides, good architecture design helps Ceph to be expanded to any filed needing storage. Above-mentioned proves that Ceph works anywhere if there is a storage requirement. Therefore, as Ceph community declares: Ceph is the future of storage!
This summit speeches cover the following subjects:
Ceph version speech——such as the presentation and interpretation of the latest Nautilus version, the following Ceph version evolution roadmap etc.
New Ceph application scenario—— such as seamless integration with new container platform(Kubernetes), using the next-generation high-speed network equipment and high performance static storage equipment(NVMe, Optane) for speeding up, Ceph-based hybrid cloud and multi-cloud solutions etc.
Ceph application cases—— the most exciting case is the application in China Mobile, DT etc multinational operators and big T projects, which also proves the stability and reliability of Ceph has endured the tests from those strict telecom operators, and has been considered as the mature and commercial storage solution!
Ceph O&M——Ceph is famous for its complexity and hard to use. The community has launched the Nautilus version in March this year, which is embedded with a new Dashboard, which fully meets the monitoring and O&M requirements, and enhances usability. Besides, the most catching thought in this field is to introduce AI algorithm to predict disk array life cycle and service model, so as to replace failed disks or switch to power-saving mode, which greatly reduces data loss risks and realizes energy-saving and emission reduction.
Ceph development——the focus of this field is next-generation high-performance framework——introduction of SeaStar, however, this framework shocks too much to existing architecture, it is estimated that the Beta version should be released for testing in 2020. Besides that, two active community developers from ZTE, Mr. Yan jun and Mr. Xie xingguo introduces one distributed QoS algorithm——dmClock to perform the idea of using cluster to recover bandwidth control, which means the whole cluster can be used for quantity recovery and control, so as to effectively solves common failure recovery or severe jitter caused by scale-in and scale-out, guarantee stable system running during failures or daily maintenance.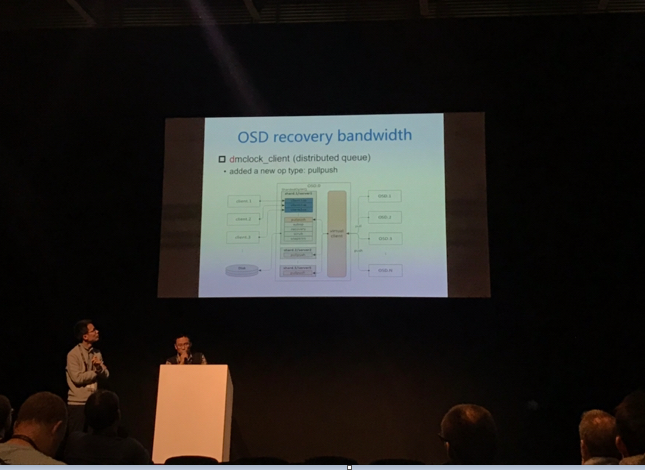 In Ceph field, ZTE is one of the earliest community contributors in China, and ranks top 3 all over the world and number in China in the latest 4 versions (Kraken, Luminous, Mimic, Nautilus). Now ZTE has 3 Ceph Members and 1 community committee member, and joined in the Ceph foundation as the founder in 2018. Besides the community contributions, ZTE has published 2 original Ceph books, which greatly fills the void of professional Ceph books in China, and the necessary reference books for national Ceph employees.
ZTE Ceph-based distributed solution CloveStorage not only includes Ceph advantages, but also integrates intelligent ZCache and intelligent deployment and O&M platform ZMS, improving performance and O&M convenience. It also provides multiple storage gateways, such as iSCSi/FC,NFS/CIFS and S3/Swift gateways, which adapts multiple storage interfaces connection, brings better product experience to users. Now CloveStorage has been applied all over the world.
With the continuous population of Ceph project, ZTE shall always focus on community contributions, and fight for creating better Ceph ecosphere and building the Linux in storage field with all Cephers!