At a recent press conference titled "5G 700MHz Convergent Network of Dahaize Coal Mine", it was announced that ZTE deployed 5G industry core network (i5GC+iIMS) to provide Dahaize Coal Mine end-to-end 5G VoNR HD video services to support safe coal mine activities underground in real-time. It realizes the world's first 5G 700M+2.6G convergent networking in the coal industry. ZTE successfully assisted Shaanxi Yulin Energy & Chemical Industry Co., Ltd. of China Coal Mine Group, China Coal Technology Engineering Group Smart Mining Co., Ltd., China Radio & Television, China Mobile, and other partners in deploying this network. This is the first time a 5G 700MHz frequency band network is applied in the field of industrial energy and is of great significance to the intelligent development of coal mines in China.
The Dahaize Coal Mine, owned by Yulin Energy and Chemical Technology Co., Ltd. of China Coal Mine Group in Shaanxi, is one of the first 71 smart demonstration mines in China. It is also important to China Coal Mine Group in the building of the Inner Mongolia-Shaanxi billion-ton coal base, and a benchmark for 5G smart mines in the coal industry.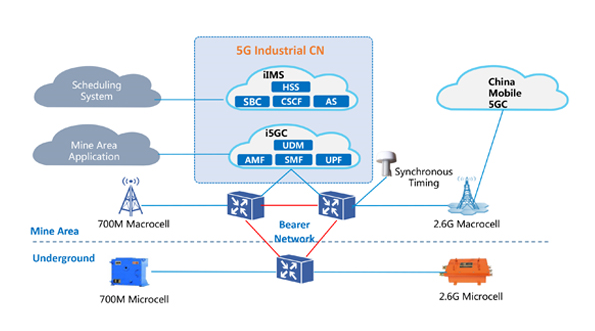 Figure 1. The architecture of Dahaize Coal Mine's 5G Convergent Private Network
This project uses ZTE's end-to-end 5G convergent private network solution, including its 5G industry core network, wireless equipment, bearer equipment, and mobile terminals. Through the integration of cloud with network and the deployment to the edge, the 5G coal mine network can be localized, such that data cannot leave the area, and network security can be controlled. The 5G convergent private network provides highly reliable communication for the whole mine, and meets the requirements for high bandwidth, low latency, and ubiquitous communication networks in complex mining environments. Boasting a small footprint, low power consumption, high integration, and integrated O&M, the 5G industry core network is lightweight, greatly reducing the costs of 5G network construction in mines. The i5GC+iIMS network provides 5G VoNR HD voice and video services for the mine. Through interconnection with the public IMS, the mine can make seamless voice and video calls with external networks.
Based on the new cloud/network architecture, ZTE provides an end-to-end 5G convergent private network solution to continuously help the mine build a network of 4G, 5G, WiFi, IoT, and industrial ethernet ring network aboveground and underground coal mines to provide unified network management and control. This network carries various mining services, assists the mine in fully interconnecting workers, equipment, and the environment, and supports intelligent construction of the entire process, which includes mining, digging, machinery, operation, ventilation, water supply/excavation, energy consumption, washing, selection, and operation management and control.
Moving forward, ZTE will leverage its comprehensive advantages in industrial ecology, and science and technology innovation, and work with industrial partners to further promote the in-depth integration of 5G in coal mine to ensure safer production, reduce costs, and increase efficiency, to accelerate digital transformation, upgrade the coal industry, and develop a robust digital economy.