22 June 2017, Shenzhen, China – ZTE Corporation (0763.HK / 000063.SZ), a major international provider of telecommunications, enterprise and consumer technology solutions for the Mobile Internet, today announced it has won the "Best Overall Multi-layer SDN Controller Implementation" award for its innovative ZENIC SDON solution at the annual Next Generation Optical Networking and Optical Data Centre Interconnect (NGON & Optical DCI) event in Nice, France.
By using Software Defined Network (SDN) technology on the wavelength division multiplexing (WDM)/optical transport network (OTN), the innovative ZTE's Elastic Network Intelligent Controller Software Defined Optical Network (ZENIC SDON) solution provides on-demand services such as Bandwidth on Demand (BoD), Performance on Demand (PoD) and Optimization on Demand (OoD), and supports fast service deployment for the L3, L2, L1 and L0 layers, reducing the service deployment time from days and hours to minutes and seconds and dramatically increasing resource use as well as service performance.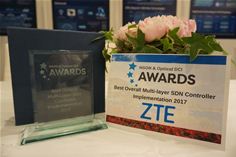 "Best Overall Multi-layer SDN Controller Implementation" award
ZTE's Optical Virtual Private Network Plus (OVPN+) solution provides self-service virtual private networks as well as higher-level security guarantee for enterprise clients. While the enterprise clients encounter faults on the leased networks, the OVPN+ solution automatically allocates additional network resources to guarantee efficient communication. The ZENIC SDON solution supports IP and Optical synergy and makes full advantages of pipeline resource pooling. It is estimated that this solution decreases router and OTN interface consumption by 20 to 50 percent, thereby lowering construction costs. In addition, the ZENIC SDON solution provides intelligent operation and maintenance tools for network assessment, fault simulation, performance monitoring and optimisation to enhance the network management capabilities and efficiency for clients.
According to Zhu Yongxing, ZTE's vice president, ZTE continues focusing on customers' value as well as innovation in technologies and business models. In addition, ZTE has actively participated in many SDN/NFV projects of standards organisations, and is the first OpenDaylight platinum member in China.
Ranked as one of the top two communications vendors in the optical network field, ZTE has firstly launched the SDON solution, and completed pilot projects on multiple sites. In early 2017, ZTE's ZENIC SDON received the "Best Transmission Network SDN Interconnection and Interconnectivity Standardization Practice" award from the SDN/NFV Industry Alliance. This award sufficiently demonstrates the leader position of ZTE's SDN technology application in optical network field again, and ZTE's strong strength to bring the advanced network value and best experience for the customers.
The NGON & Optical DCI forum is one of the world's top wavelength-division forums. Attracting a great number of mainstream operators, device manufacturers and component manufacturers each year, this forum has become the beacon in the development of the global optical transport network industry. The Next-Generation Optical Networking and Optical DCI Awards are intended to recognize the innovative achievements made by the solution providers and service providers in the global optical transport network field.