The significance of AI+ big data to the intelligentization of cloud network
With the increasing complexity and decoupling of cloud network, it requires reconstruction, which will bring huge challenges to network operation and maintenance (O&M). 5G technical changes will revolutionise vertical industries on the cloud network. How to guarantee the stability and reliability of network infrastructure layer, and how to perceive the network and implement holographic monitoring, to adjust the network intelligently to meet user demands? How to deal with the intelligent O&M of cloud network, to address rapid changes of user needs and provide assurance for vertical industries? All of these will provide opportunities for the application of AI and big data technology in the intelligent cloud network.
Two core capabilities of intelligent cloud network
Two core capabilities are required for constructing an intelligent cloud network. The first one is to build the infrastructure platform which should provide computing power for the intelligent cloud network and provide data processing capability for intelligentization, that is, how to extract valuable sample data from massive data.
The second capability is to be scenarized, which involves three layers, network infrastructure layer, network function (NF) layer, and network O&M layer. The network infrastructure layer focuses on network reliability and stability, so the key is intelligent fault location which refers to massive fault data collection, fault data correlation, fault prediction and automated fault cleaning. The NF layer focuses on holographic monitoring and awareness of NF data, achieving network self-optimization and adjustment and NF self-healing through the closed-loop of massive data collection, data analysis, establishment and application of data AI model, data decision and data feedback. The network O&M layer focuses on DevOps-based intelligent applications, including automated network deployment, network scalability, fault location and so on. For operation, it needs to implement data mining and analysis based on big data, to build value-adding scenarios for operators, helping them carry out intelligent traffic operation, network user experience evaluation, network quality evaluation, cross-domain end-to-end network fault location, rapid new service creation through service openness, etc.
Figure 1 Intelligent Cloud Network Driven by AI + Big Data
AI + Big Data driven intelligent cloud network solution
ZTE AI + Big Data Intelligentization solution, based on the three-layer basic architecture of cloud network, fully considering challenges, demands and access scenarios of 5G, is promoted by architecture technology to meet the two core capabilities of intelligent cloud network.
1) Self-optimization of infrastructure layer: the cloudified infrastructure makes it more difficult to implement fault location and analysis, and makes it more complicated to manage the resource layer. AI + big data enable self-optimization of fault alarm, fault self-healing, basic resource allocation, etc.
2) Intelligentization of network resource layer: the introduction of network state awareness function achieves data collection, state monitoring, computing analysis, reasoning decision making and strategy enforcement. AI + big data provide basic capabilities for network resource adjustment, network self-optimization and self-healing, and network autonomy.
3) Automation and intelligentization of O&M management layer: from planing and design, network deployment to management and O&M are all intelligentized, achieving automation and global resource optimization. The introduction of AI+ big data can dynamically perform resource scheduling, optimization and troubleshooting to realize intelligent network operation. By combining AI technology and network resource scheduling, machine learning technology is used to predict and evaluate user behavior, network service and corresponding resource requirements based on collected data, and carry out active O&M in combination with the dynamic situation of the network to ensure that the network can adjust resources accordingly, to maximize the use of network resources. AI-based network optimization technology analyzes massive data of intelligent network characteristics, establishes a reasonable intelligent quantitative model, and processes network services based on the model in real time, to ensure optimal network operation status. AI-based troubleshooting technology, based on massive history fault data and fault resolution data, uses AI to learn and generate fault events and feature matching rule base, and automatically selects the optimal solution for network alarm data, to guarantee and manage the entire communication network.
AI+ big data capabilities are introduced in stages, from open-loop networks to static closed loops, to dynamic closed loops, and finally to fully autonomous networks, to realize the network transformation from ruled by man to ruled by itself (autonomy model).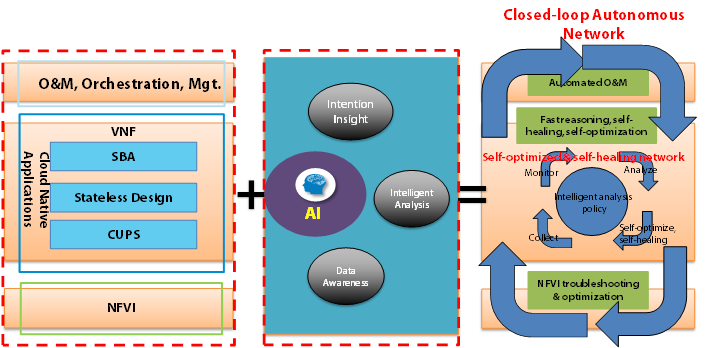 Figure 2 AI + Big Data based Intelligent Cloud Network Architecture
According to refinement requirements of intelligent capabilities, big data and AI capabilities are gradually introduced. In the hierarchical structure of intelligent cloud network, the upper layer is more centralized and has stronger cross-domain analysis capability, so it is more suitable for centralized training and reasoning of global policies, such as cross-domain scheduling, end-to-end orchestration, and content distribution of the entire network. It requires high computing power, requires massive data support across domains, and is less sensitive to real-time requirements. The lower layer which is close to the edge has stronger special analysis ability and requires higher real-time performance, such as 5G NR mobility strategy, and MEC real-time control. The dependence on computing power is not high. It is suitable for introducing embedded reasoning ability or being combined with MEC, to deploy a lightweight training engine with some real-time processing power.
Conclusion
The telecom network has entered the 5G era, and the development of AI is in full swing. The intelligent network enabled by AI + big data is an important trend in the development of 5G networks. Intelligentization will bring about fundamental changes in the network. Firstly, relying on the support of network big data and machine learning algorithms, the primary intelligence of 5G network will be realized; secondly, AI will be able to learn 5G network big data across domains, and some sub-fields will have integrated intelligence to realize the intermediate intelligence of 5G network; finally, with the high development of AI technology big data in each sub-domain of the network will realize linkage in the whole network and carry out a high degree of autonomy, greatly improving the lifecycle efficiency of the network, and realize the advanced intelligence of the network based on the intention of the human controlling the network. It is foreseeable that in the near future, the combination of AI and big data will promote the epoch-making development and evolution of telecom networks.