16 Shenzhen, China - ZTE Corporation (0763.HK / 000063.SZ), a major international provider of telecommunications, enterprise and consumer technology solutions for the Mobile Internet, today announced that ZTE's edge computing hardware platform, Open Edge Platform 600 (OEP600) has won 2018-2019 MEC(Multi-Access Edge Computing) Technology Innovation Award at 2019 MEC(Multi-Access Edge Computing) Technology and Industry Development Summit, fully demonstrating ZTE's innovation capability and leadership in the field of edge computing. The edge computing hardware platform is jointly launched by ZTE and Intel.
OEP600 adopts Intel® Xeon® Scalable processors, Core™ processors and Stratix®10 FPGA convergent design solution, together with Intel Data Plane Development Kit (DPDK) and Media Software Development Kit (MSDK), hence significantly improving edge computing processing power and strong neural network reasoning capability. It pushes artificial intelligence to the edge while optimizing TCO.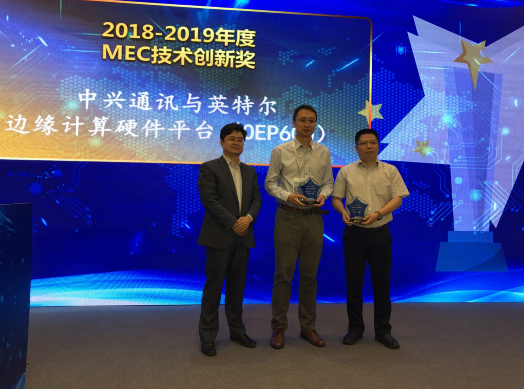 OEP600 is specially designed for the edge computing equipment room. The depth of its chassis is only 450mm, which is 60% of the depth of the general rack server. The server can be put into a 600-mm-deep cabinet, all of its outlets are set in the front, and the device firmware can be remotely upgraded. Therefore, it is convenient for maintenance.
By virtue of a strong heat dissipation capability, the platform can function in a wide range of temperature, meeting the working environment requirements of -5°C and 45 °C.
As a representative product of ZTE OEP600, the single-node edge computing server (ES600S) supports strong heterogeneous computing, which enables ZTE OEP600 to match with different hardware acceleration components, thereby providing solutions with ultra-high performance/power ratios for different application scenarios.
Moreover, the acceleration performance of VirtlO is comparable to that of SRIOV, the PFU acceleration is more than 2 times higher than that of pure software, its video streaming service and decryption function is twice as cost-effective as GPU solution, and the power consumption is reduced by 40%.
Wang Weibin, CTO of ZTE Telecom Cloud & CN Product Operation said, "The edge computing hardware platform OEP600 jointly launched by ZTE and Intel will help operators launch edge computing pilots as soon as possible to accelerate the development of 5G networks."