Following the trend of cloudification transformation of telecom networks, NFV begins to be introduced to Metro Area Networks (MANs), and BRAS equipment at the service edge is the first to go. The introduction of NFV technology makes BRAS flexible and elastic. However, limited by the capability of X86 chips, pure X86-based vBRAS cannot meet the high bandwidth and QoS requirements of big video and VR/AR services. Therefore, ZTE innovatively provides the vBRAS solution that features separation of forwarding and control and synergy of two forwarding modes.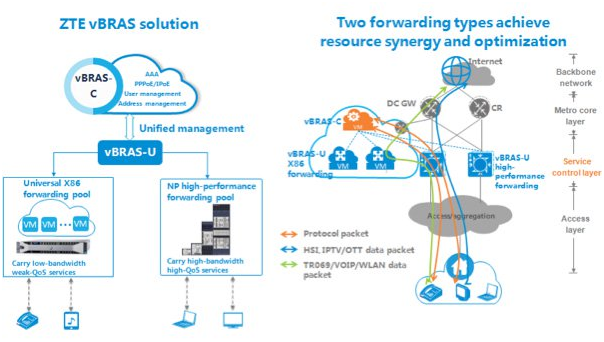 The vBRAS-U high-performance forwarding equipment is upgraded from BRAS/MSE/BNG equipment in the existing network and is still deployed at the service control layer of MAN. The vBRAS-C and vBRAS-U X86 forwarding equipment can be deployed at the same equipment room as the high-performance vBRAS-U equipment, or at the metro area core DC equipment room. The two different forwarding pools share the same control plane but do their own jobs respectively. The high-performance forwarding pool provides Tbit-level forwarding capability to cope with the challenges of big video services. It can be used to carry high-bandwidth services that require high service quality. The X86 forwarding pool is used to carry low-bandwidth services that do not require high service quality but consume many session resources.
The synergy solution makes full use of advantages of X86 universal servers in computing and session processing. It can seamlessly inherit all services in the existing network, fully meeting the service development requirements of operators. Besides, it well reuses BRAS/MSE/BNG equipment in the existing network, protecting operators' prior investments.
On the other hand, NFV of network elements drives network transformation towards service-centric networks, the means of which is constructing network architecture with multi-layer DC at the core. The first and foremost is rearchitecting COs in equipment rooms at the service control layer as edge DCs. The service control layer as the aggregation point of MAN services has many service control nodes that gradually become NFV-based (such as vBRAS, vRouter and vCGN). Besides, service development drives the equipment rooms at this layer to carry more virtualized telecom network elements, including vCPEs that provide service on demand for enterprises, vCDNs that move down to the MAN edge DC driven by big video services, and vEPCs that move down to the edge DC to meet the demand for extreme mobile service experience of high bandwidth and low latency. As so many network elements gather at the edge DC, a powerful network element node is needed to perform traffic aggregation and service distribution. Therefore, ZTE defines a new network element: Tunnel Termination Gateway (TTGW).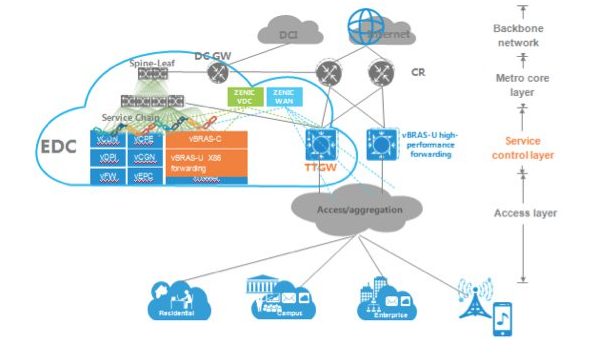 When the traditional network architecture evolves towards DC-centric network architecture, TTGW integrates cloud access and cloud network. It is the dividing point of the traditional domain and the DC domain and connects the traditional network with the SDN/NFV network. Evolved from traditional MSE/BNG equipment at service control layer of MAN, TTGW has many features integrated to address service development requirements of new SDN/NFV networks while inheriting all functions and features of MSE/BNG.
 As the service tunnel termination point of the traditional domain, TTGW aggregates all service flows from it, including service flows of both fixed network and mobile network, achieving fixed mobile convergence (FMC).
 As the service tunnel starting point of DC domain, TTGW distributes various service flows to the Internet or corresponding network elements in the DC for processing. TTGW supports not only basic flow classification policies based on route and 5-tuple but also dynamic flow classification policies based on service chain, to create conditions for providing value-added services by means of service chain.
 As a high-performance forwarding device, TTGW can provide high-bandwidth and high-QoS service transport solutions for vBRAS, making up for the performance deficiency of pure X86 vBRAS.
 As an intermediate network element node of an end-to-end service, TTGW can be controlled simultaneously by vDC controller and WAN controller. It supports customized network function tailoring according to the requirements of different scenarios. With its powerful VPN/VxLAN tunnel capability and QoS guarantee capability, it implement network soft slicing to meet the users' differentiated requirements for network on demand, bandwidth, latency and quality of service (QoS).
 As the joining point of Underlay and Overlay networks, TTGW provides seamless connection between underlay network and service cloud, and optimizes network performance based on service perception to achieve cloud-and-network synergy.
In the cloudified re-architecting of service control layer in operators' MAN, ZTE's evolution solution is both practical and innovative.
 It provides future-oriented service development capability while meeting the current carrier-class operation requirements of operators.
 The network architecture evolves gradually and smoothly towards the goal of DC-centric network architecture while retaining the existing flat network architecture.
 Continuous innovation deeply explores the potential of network elements and network resources to upgrade the form of MAN service control layer to 3.0.
 It speeds up the progress of CO re-architecting at the service control layer by 1.5 years and protects the prior investments of the operators to the utmost.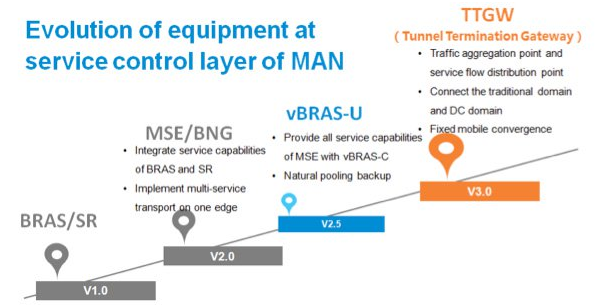 During the process of MAN cloudification transformation, ZTE has made active research, exploration and attempts in cooperation with mainstream operators in both network element upgrade and network architecture evolution, and has achieved fruitful results in just more than one year.
 ZTE's vBRAS solution featuring separation of forwarding and control has been deployed at pilot trials in all the three mainstream operators in China and accumulated rich experience.
 In May 2017,the innovative vBRAS solution jointly proposed by China Mobile Research Institute(CMRI) and ZTE won the Infrastructure Innovation award issued by Global Telecoms Business (GTB), an international telecom industry authority media.
 ZTE's big video wireline bearer network architecture solution focusing on vBRAS and TTGW achieved "Network Architecture Innovation Prize2016" of Posts & Telecom Press.
All these demonstrate that ZTE has actively participated in industrial collaboration and bravely made innovations and practices in the process of network cloudification evolution. In the future, ZTE will keep its enthusiasm in continuous innovation and sustainable development, and cooperate with global customers to build next-generation SDN/NFV-based cloudified networks.