As an important way of digital transformation for operators, capability exposure has always been one of the key research and investment directions in the industry. With the commercial deployment of 5G network, 5G capability exposure has also been put on the agenda. What 5G network can provide are hot research topics, including the capabilities, application scenarios, and capability exposure deployment and development.
5G Network Capability and Application Scenarios
In 3GPP R15, the related specifications of NEF (Network Exposure Function) are defined. As the 5G network capability exposure function, it provides 8 standard capability exposure services for AF (Application Function). Through these 8 services, it can provide QoS capability, event monitoring, parameter configuration, equipment triggering, PFD management, traffic guidance, background traffic and policy charging. The R16 standard complements and enhances the open services defined in R15, and adds capability exposure services such as NIDD (Non-IP Data Delivery), data analysis, network status, MSISDN-less MO message and IPTV configuration. 5G's service exposing capabilities will be widely used in transportation, industry, agriculture and forestry, energy, park, and other industries. Application scenarios of traffic policy (QoS, traffic guidance, and policy-based charging) service capabilities include OTT directional acceleration, park QoS guarantee, mobile office acceleration, MEC local traffic unloading, and merchant-sponsored traffic. Application scenarios of device and event monitoring capabilities include asset stocktaking, logistics tracking, regional traffic management, emergency rescue, and device troubleshooting.
In addition to the service capabilities defined by 3GPP NEF, along with the application development of network slicing, edge computing, big data and AI technologies in 5G network, 5G network will abstract out more capabilities and provide them for the service application layer, including network slicing service, edge computing service, location service, 5G voice/message service, and data analysis service
Network slicing refers to a logical network that provides specific network capabilities and features. By abstracting slice capabilities, it is possible to expose the API services such as slice subscription, slice creation, slice signing and slice monitoring, so that third party can implement quick definition and creation of slices and dynamically sign and use slices oriented to terminal users through invoking capabilities.
The combination of edge computing and 5G can provide powerful support for more latency-sensitive industry applications in the URLLC scenario. It is intended to expose basic resource services such as IaaS and PaaS service capabilities and traffic processing service capabilities such as stream optimization, encoding/decoding, firewall and NAT service to the APPs on the MEC or cloud-end APPs.
5G LMF can provide the high-precision positioning capability based on multiple methods such as wireless, terminal and user plane. The positioning modes include single positioning, periodic positioning and event-triggered positioning. Its positioning service capability can better meet the positioning requirements for low terminal power consumption and no APP residence in the IoT field. It can be widely used in various scenarios such as road transportation, freight monitoring, environment monitoring, and agricultural and pastoral activities tracing.
5G voice and message capabilities include message, voice, HD voice, multi-party conversation, multi-party video, SM/voice verification code, and virtual number, which have been widely used and become essential factors in multiple industries such as enterprise communication, park service, traffic and transportation.
5G Capability Exposing Architecture and Deployment
Capability exposure has a long history, but there is no authoritative standard for the capability exposure architecture. Therefore, 3GPP has released the CAPIF (Common API Framework) standard to guide the capability exposure construction within the 3GPP range. Based on this framework, capability opening can be divided into four logical functions: CAPIF Core Function, API Exposing Function, API Publishing Function and API Management Function. In the actual networking construction, these four functional modules can be flexibly combined and deployed in a centralized or distributed manner.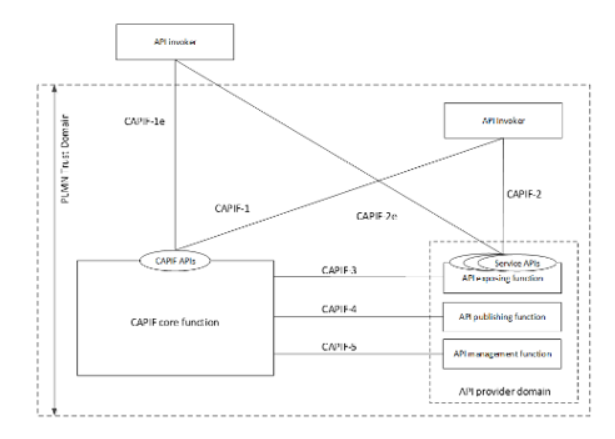 For the construction of 5G exposing capability, the capability engine layer that belongs to the API provider domain includes multiple network function entities, which provides different capability exposing API services based on their own capabilities. The API authentication, authorization, log and accounting functions defined in the Core Function are the common requirements for various functional entities. Therefore, it is suggested that CAPIF Core Function and API Exposing Function should be combined as the API capability exposure gateway. On the one hand, the gateway provides functions such as authentication, authentication and accounting for API exposure for the exposure engine entity of each function; on the other hand, it provides a unified entrance for invoking the AF capability for some APIs and scenarios, so that the AF can use and shield the internal topology of the network. While decoupling capabilities, the capability-exposing functional entity implements the API Exposing Function, API Publishing Function and API
Management Function, releases API and directly exposes and invokes capabilities in low latency and other scenarios.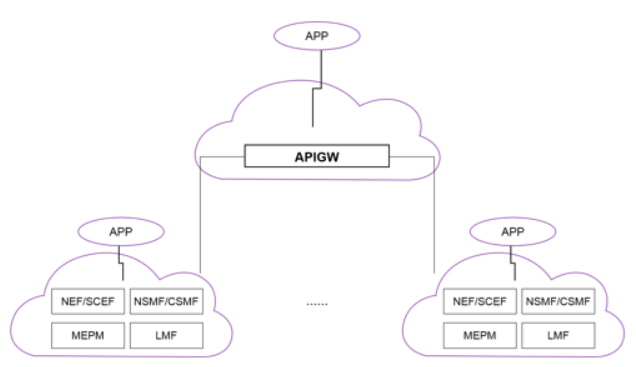 Based on the MicroService architecture, Cloud APIGW provided by ZTE supports secondary development and orchestration of atomic capabilities on the basis of CAPIF Core Function + API Exposing Function capabilities. For the scenario-based service capability development of a specific industry, the product supports fast access to new capability engines and protocol adaptation conversion, providing a one-stop service platform for 5G capability exposure. At the capability layer, ZTE NCEE complies with the CAPIF architecture design, supports the access of 5GC/EPC capability NEs, and implements the integration of NEF and SCEF at the same time. For different AF application scenarios, the unified entrance can be directly provided for capability API invocation or access to APIGW to implement capability invocation. With respect to the deployment mode, both APIGW and NCEE, which are oriented to different scenarios and scales, support centralized deployment and distributed hierarchical deployment.
Suggestions on 5G Capability Exposure Construction
Capability exposing covers a wide range of aspects, including network layer capability, domain-B capability, and domain-O capability in the telecom field. From the perspective of capability exposure platform operation, it can be seen that all the relatively successful projects focus on their core capabilities, face specific application scenarios and business models, and provide operation support and ecological services. To meet 5G capability exposure requirements, it is recommended to filter capabilities in accordance with industrial application requirements at the beginning of the construction phase by phase to avoid the large-scale and all-round capability API exposing construction.
First of all, considering such factors as the uniqueness of capabilities and the urgency of requirements, the deployment of 5G network needs a unique and large demand quantity to quickly aggregate users and improve the platform activity and influence.
Next, with respect to deep integration with the industry, it is necessary to develop the industry customization capability and scenario capability, and improve the platform competitiveness. In terms of business models, different commercial models can be adopted for different capabilities. For example, the non-unique basic capabilities with a wide audience use the free or low-price policy as an important means of attracting users, and high customization industry-class capabilities as the industry threshold and main profit points.
Finally, perfect operation support is an important link to maintain customer stickiness and self-sustainable operation. The operation, which is centered on serving customers, continuously improves system service capabilities and perfects capability API and business strategies through closed-loop operation analysis to finally achieve a win-win situation.