With the evolution and development of communications technologies continously, and the mutual penetration and convergence of cloud computing, big data, and artificial intelligence (AI) industries, the 5G era has already sneaked up on us. The 5G network features large bandwidth, massive connections, and low latency, which will effectively promote ICT integration and transformation of operators and enterprises, and build a highly customized, highly intelligent, and highly open network ecosystem around the core of customer experience. It will further promote the maturity of IoT, industrial intelligence, automatic driving, and other related technologies.
With the issuance of four 5G licenses in China on June 6, 5G network construction and operation are preparing power and ready to act. Then operators will face unprecedented challenges. The successful deployment of 5G Core will be a crucial factor. 5G Core faces a variety of issues during deployment, which can be summarized as the following aspects:
1)How to achieve One Core for All through network convergence, to meet the requirements of multiple protocol standards (R4-R16) and multiple application scenarios (eMBB/uRLLC/mMTC)?
2)How to enable existing networks evolving into 5G flexibly?
3)How to enable different vertical industries through 5G to lead industry upgrade and promote industrial development?
To solve above issues, as a mainstream equipment supplier in the telecommunication industry, ZTE takes the leading position in proposing the future-oriented 5G Common Core solution to meet the industry development requirements based on a deep understanding of network constructions and operations. It is committed to providing operators with a fully converged 5G Core, which supports the convergence of multiple protocol standards and multiple application scenarios with flexible evolution and meets the service development requirements in different industries.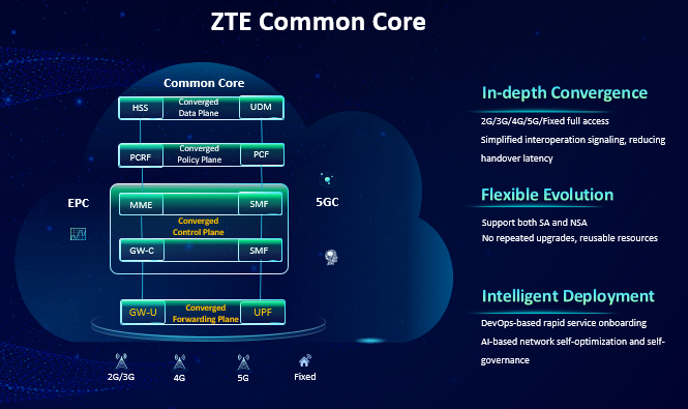 Figure 1 ZTE Common Core
1) In-depth fusion supports multiple protocol standards and multiple application scenarios
ZTE's Common Core supports 2G/3G/4G/5G/Fixed full access, and achieves five convergences (AMF/MME/SGSN, UDM/HSS/HLR, PCF/PCRF, SMF/GW-C, and UPF/GW-U) on the 5G network function layer and service layer. ZTE's Common Core adopts the Cloud Native technology and shares functional components cross-network through micro-service and SBA/SBA+ technology. The multi-use of one network simplifies the network topology and reduces cross-network function inter-operation and signaling interaction. The KPIs of core network are improved significantly, while O&M efficiency and user experience are greatly improved after convergence
In addition, with the arrival of the 5G era, the exponential growth of data traffic and the popularization of high-reliability (99.999%) and ultra-low-latency (less than 1 ms) applications such as automatic driving and industrial automation propose the new requirements and challenges for network transmission bandwidth and latency. Therefore, it is an inevitable choice for 5G network architecture transformation that the user plane should be moved into regional DCs or even edge DCs. ZTE Common Core adopts CUPS/CUPS+ and Smart NIC to implement hardware acceleration for UPF/GW-U forwarding based on CUPS. By learning the first packet of any service, the VNF (UPF/GW-U) generates a fast forwarding flow table and sends to the Smart NIC. The Smart NIC distributes and processes the user-plane packets subsequently and then forwards them directly. It will save CPU resource, improve performance and reduce latency greatly. Compared with the common software acceleration solution, the forwarding delay of Smart NIC hardware acceleration solution and power consumption can be reduced by 90% and 55% respectively, while the throughput and power will be increased by 200%, which is better for meeting the requirements of 5G eMBB and URLLC scenarios.
2) Flexible evolution meets operators' demands for network construction.
The frozen 5G standards provide two evolution paths for operators: NSA and SA. The ultimate goal of both NSA and SA is to build 5G more quickly and better. However, how to select the ways to evolve to 5G has become a key issue in the industry.
By investigating some operators who have selected 5G networking solutions, it is easy to find that most of the operators prefer to select the NSA for the initial 5G construction, and then gradually evolve to the NSA+SA hybrid networking. Only few operators select SA solutions to build 5G networks directly. The deployment of 5G networks requires flexible evolved capability to meet different operators their own selection and position.
ZTE's Common Core solution reflects the above requirements for flexible network evolution deployment clearly. For 5G network functions (NF), Common Core provides the R15 NSA/SA dual-stack capability and supports evolution into the R16 smoothly. The operator can deploy SA, NSA or NSA&SA dual-mode in the same network flexibly according to its own requirements. The target architecture can be achieved in one step with the reused to reach the 5G network avoiding multiple network upgrades and reconstruction, which greatly reduces the investment cost. It will bring real benefits for users to enjoy 5G without changing their cards or numbers.
3) Intelligent deployment empowers vertical industries efficiently
Network slicing is intended to provide a dedicated logical network for different scenarios. ZTE's Common Core adopts micro-service and SBA/SBA+ technology, and deploys highly customized network slicing through sharing and free combination of functional component modules flexibly. It will realize the application of NFs in different vertical industries effectively. By virtualizing one network into N network slices, the network process the capability to serve N vertical customers at the same time to meet the requirements of network capabilities in various 5G scenarios. It will reduce the cost for network construction and O&M effectively and improve the speed of service on-boarding significantly.
ZTE Common Core integrates CloudStudio intelligent end-to-end orchestration solution. This solution is based on big data and AI technology. It implements functions of automatic analysis, network design, service deployment, provisioning test, polling and attendance and gray upgrade to deploy a all-round new 5G network from center to edge, from underlying hardware to orchestration management and from NE to service.
Through the in-depth combination of 5G and AI technologies, ZTE Common Core has truly achieved the intelligence of business slices, O&M and network resources. In addition, it provides horizontal and vertical end-to-end intelligent optimization across NEs and domains to improve the intelligence level of the 5G network comprehensively. ZTE's leading intelligent RCA (Root Cause Analysis) system has been built with AI engine. It establishes alarm association rules through machine learning and optimizes the rule library continuously to reduce the manual O&M cost by 75% effectively and improve O&M efficiency more than twice.
Conclusion
Based on commercial 5G scenarios and aiming for solving three major issues in the construction and operation of 5G Core, ZTE Common Core solution achieves the unified convergence of data, strategy, control and forwarding through NFV/SDN technology, SBA/SBA+, micro-service group and stateless design. It supports 2G/3G/4G/5G/Fixed full converged access and achieves real One Core for All, to help customers achieve the leadership postion in the 5G wave in terms of technical and time aspects.
ZTE adheres to the concept of greatness in simplicity, rapidity and flexibility. ZTE adopts the rule of adding, subtracting, multiplying and dividing in helping operators build ideal 5G networks. Adding is to increase network "IQ" to make them more intelligent. Subtracting is to build a simplified network and share hardware capabilities with the unified network control layer and the simplified hardware devices at the access layer. Multiplying is to make cross-border combination of 5G networks and vertical industries to lead a matrix revolution of commercial models of vertical industries. Dividing is making the multiplex on network with the network slicing technology, which forms N network slices for different scenarios. It reduces the cost of network construction and operation and shortens the time to market of services obviously.
So far, ZTE NFV has established more than 450 commercial and PoC projects all over the world. ZTE has worked with more than 60 operators for 5G cooperation to promote the development of 5G technologies and standards and accelerate the commercial process of 5G