2019 is the first year of 5G commercial. As of June 2019, 5G commercial networks have been deployed by 54 telecom operators in 31 countries and 5G services have been provided by 35 operators in 20 countries. On June 6, 2019, the Ministry of Industry and Information Technology of China officially issued 5G commercial licenses. It is expected to launch 5G services in some cities within 2019. Forbes ranks 5G as the first technology trend in 2020. 5G not only supports ultra-large bandwidth (eMBB) application scenarios, but also supports ultra-low delay (uRLLC), massive IoT connection (mMTC) scenarios and ultra-high reliability. 5G not only changes life further, but also brings industrial change and profound social change to the IoT. Short messages have been released for 27 years. What kind of upgrade or revolution will be ushered in 5G network? In addition to "man" to "man" information communication, how can "man" to "thing" or "thing" to "thing" communicate? With the revolutionary upgrade of 5G networks and terminals, traditional SMS will usher in the best time of upgrades, namely, 5G messaging for the 5G era.
I. Definition and range of 5G messaging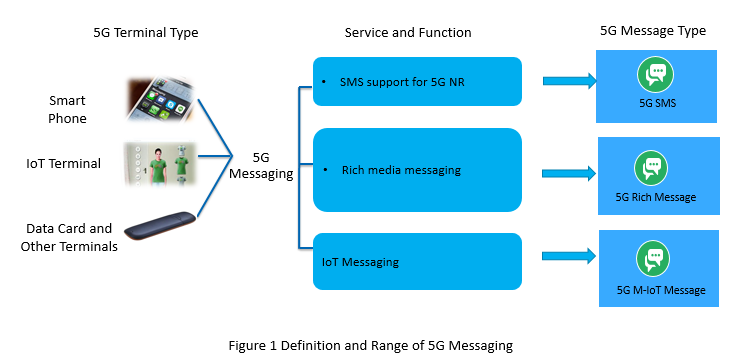 The above figure corresponds to multiple types of 5G terminals. The operator's 5G network provides new-generation 5G messaging services after SMS is upgraded, including three major types of services and functions:
5G SMS
Under the 5G SA networking, text messages (140-byte text) continue to be used as the basic information receiving and sending channel of the 5G network through the 5G NR network air interface protocol and the core network support. Under 5G NSA networking, SMS can continue using VoLTE SMS messages to support and transit to the SA networking. As a basic mobile communication service supported by the operator's basic network, SMS and voice are essential basic functions of each mobile terminal. They can be used to provide reachable, interconnected, and roaming communication services on a global scale. 5G SMS is applicable to some scenarios of 5G terminals or limited networks:
1) Receive SMS messages from 5G data cards.
2) Receive SMS messages from 5G IoT terminals.
3) Send/receive SMS messages to/from the 5G smart phone (when RCS cannot be used)
However, since the 4G era, text messages only support the 140-byte text in the same way when they are used in the 2G/3G era. These basic communication services have not been upgraded, and their functions are simple and their experience is limited. As a result, they cannot meet users' growing communication requirements for RCS contents and instant messaging. As a matter of fact, they need to be upgraded to RCS messaging to meet new-generation messaging communication requirements.
The 5G SMS complies with the 3GPP R15 standard and is updated and developed with the R16/R17.
5G RCS messaging
The historical mission of traditional SMS is to upgrade to RCS messaging, which is just the need of the innovative development of 5G networks and terminals. After being upgraded to 5G RCS messaging, 5G SMS can provide the following content:
1) One-to-one instant messaging: The 5G network supports functions such as capability detection, text, picture, voice message, video, file, location, expression, card message, status report, and SMS fallback.
2) Group chat and bulk message sending: The 5G network supports RCS messaging information in group messages.
3) RCS business messaging: The 5G network supports 2B and 2B2C RCS industry messaging oriented to industries, enterprises and third parties. It provides A2P industry messaging, industry template messaging, card messaging, and chatbot applications. The chatbot is based on the mode of conversational interaction and event transaction. The user can search for various robot applications in the RCS messaging window, and have one-stop service experience through conversation, interaction, menu and payment. No APP installation or dependence is needed for direct access to operator and third party application services and life services such as ticket booking, shopping, bill, travel, customer service and consultation. With the support of commercial messages, the functions of Message as a Platform, Message as a Service, and Message as an Application can be implemented.
Compared with traditional SMS messages, based on the number entry, security, and accessibility, the user experience, reading rate, and feedback rate of rich media business messages are greatly improved, significantly enhancing the loyalty and stickiness of online users, and developing value-added services and downstream cooperation.
4) RCS can aggregate short messages and IoT messages for unified display and communication.
RCS messaging complies with the GSMA UP1.0, 2.x and OMA CPM 2.2/2.3 standards and is updated and developed.
5G M-IoT messaging
IoT is one of the most promising industries in the world after PC and Internet. According to Gartner, the number of global IoT devices will reach 26 billion in 2020, and the IoT market scale will reach 1.9 trillion USD. 5G is an era of massive connection and IoT. 5G M-IoT messaging defines the message communication service requirements for 5G systems and terminals, including end-to-end messages, service-to-end messages, broadcast messages and group messages. It also sets the corresponding requirements on charging, security, roaming, interconnection and interworking. Oriented to massive connections, 5G M-IoT messaging provides lighter and more efficient message services and applications, filling the gap in communication, presentation, and control of basic standard messages on the 5G IoT side.
5G M-IoT messaging can be exchanged and communicated with 5G RCS messaging and 5G SMS messaging through server adaptation. Users can query, display, and control the status of IoT terminals and services through RCS messaging and SMS messaging. These three types of messaging can be exchanged and communicated in bi-directional mode, and integrated into convergent 5G messaging to achieve full connection and communication. This meets the requirements of all-round three-dimensional message communication services in the 5G era, builds a brand-new era communication service experience and a rich life, and creates new value.
The 5G M-IoT messaging standard is based on the 3GPP R16 standard and is updated and developed with the R16/R17.
II. 5G messaging business and ecologic value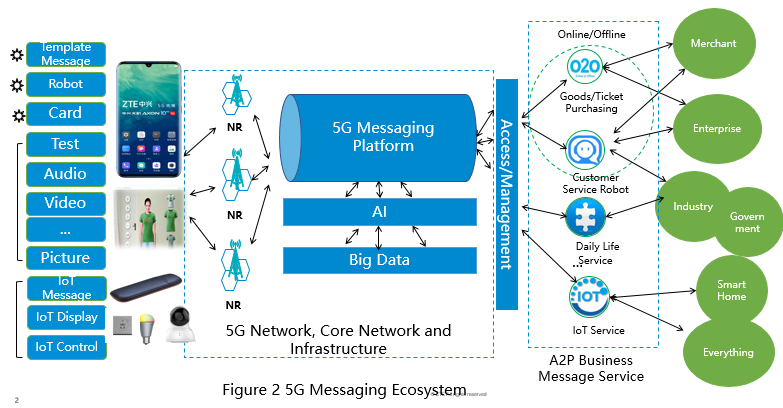 As shown in Figure 2, the 5G messaging platform is based on the operator's 5G basic network, core network, and infrastructure. With the applications of AI, big data, IoT, and cloud computing, the 5G messaging platform achieves the big connection of messages between all "people" or "things" and enterprises, businesses, industries, governments, and families on the 5G end side through 5G messaging to provide seamless full-media information communication and message services.
In addition, 5G network provides upstream and downstream ecological connections, business, and services such as networks, ends, platforms, collaborators, contents, and applications. Through RCS messages, industry messages, cards, templates, and interactive service robots based on dialogs, 5G network provides end users with public services, life services, business services, and products that are necessary for enterprises, merchants, industries, governments, and smart IoT. These services and products are used seamlessly to implement the function of Message as a Service and create service values and ecological value chains.
5G messaging implements message communication service upgrade, and upstream and downstream cooperative ecological upgrade through the business message service.
5G messaging and service ecosystem has the following unique features and advantages
1. DTC (Direct To Customers): Users and businesses or enterprises can communicate and serve directly through chatbots, without the need for third party intermediary platform, e-commerce platform or APP. Users do not need to download multiple application programs any more, but directly access a series of services provided by enterprises through an entrance after an SMS upgrade. Enterprise business services communicate with users in the form of virtual service robots through business messages, helping users conveniently implement such service requirements as ordering, purchasing and customer service.
2. Download-free installation and login: New users can, with no need of installing APPs, complete various service functions based on chatbot-based interactive experience. This reduces users' thresholds and thus reduces the cost of obtaining customers.
3. RCS, conversational interaction, and interactive operations: The chatbot can provide text, picture, audio, video, or card messages, and provide operation and selection buttons for interaction and selection.
4. On-demand: The directory service of the chatbot can be used to provide service search and selection similar to that of the app store.
5. Security, real-name, and anonymous services. Real-name authentication management is implemented for businesses to prevent fake brand access and minimize fraud risks. Anonymization: A user can use a company service in anonymous mode. If the service is no longer needed, the anonymity relationship with the company needs to be deleted, and the company cannot send any message to the user to prevent the user from being harassed by the bad company.
6. In-depth link support for A2P and P2A: Based on RCS pushed by A2P + in-depth link, users can directly access the robot.
7. Improvement of user stickiness: According to the current commercial message operation data, the reading rate and conversion rate of users are increased by 60-80% compared with those of traditional industrial short messages.
5G messaging is an indispensable part of the 5G era for technology and digital innovation and development. Through SMS upgrade, 5G messaging forms the RCS, commercial messaging and value-added service, and upstream and downstream cooperation ecosystem that regards operators as the core value center in the 5G era. The vision of 5G messaging is to rebuild the core ecological prosperity and telecom ecosystem 2.0 of the communications industry. 5G messaging is for the 5G era!