11 October 2018, Shenzhen, China - ZTE Corporation (0763.HK / 000063.SZ), a major international provider of telecommunications, enterprise and consumer technology solutions for the Mobile Internet, today announced that it has won "Best New Cloud-Native VNF" "Best New Automation & Management", "Best New Cloud Infrastructure", "Best New Open Source Product", "Best Network Edge" and "Best New Edge & Access Solution" at the SDN NFV World Congress, held in The Hague, Netherlands. The awards fully showcase ZTE's innovation capability and leading position in the SDN/NFV field.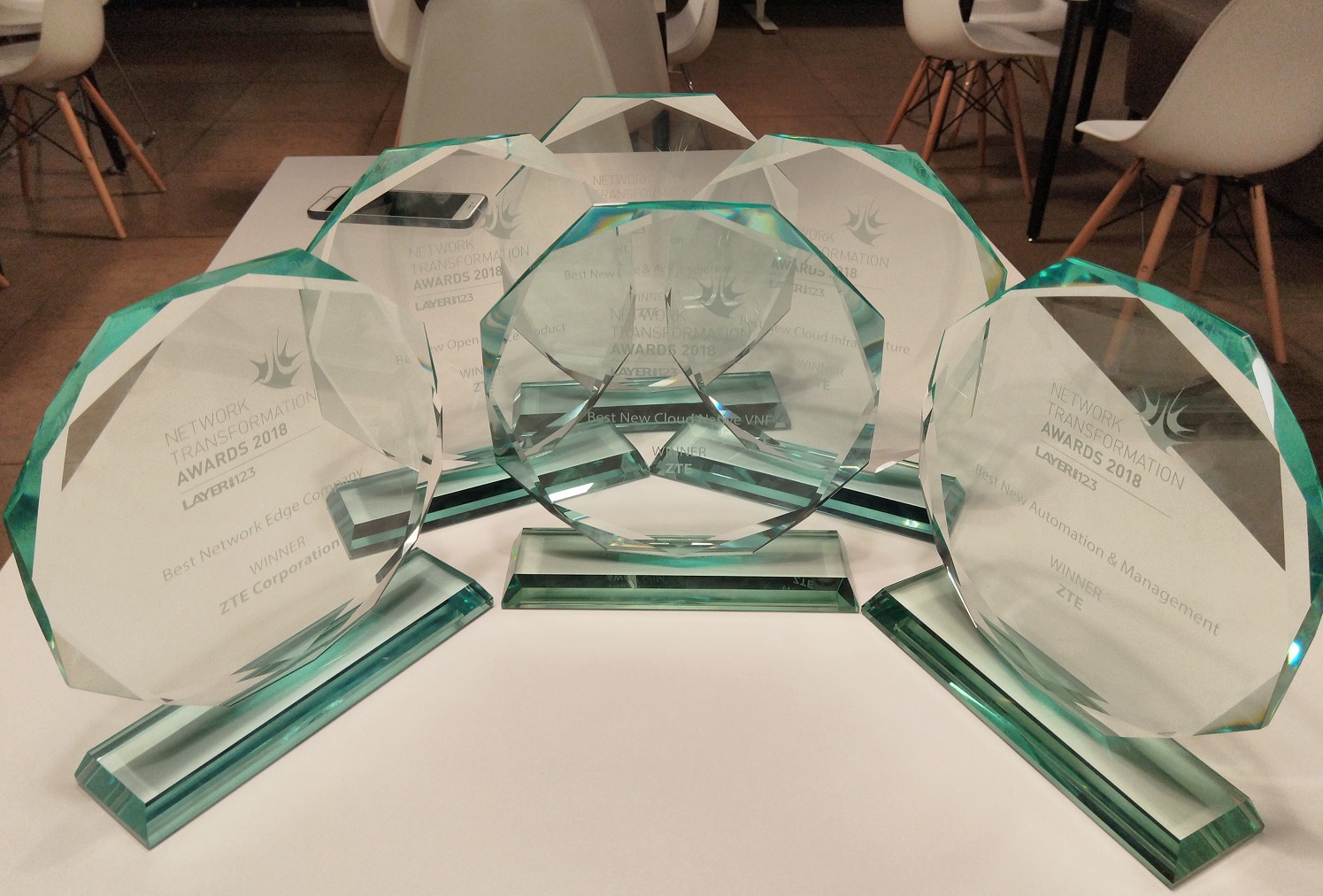 1. ZTE Common Core Won the "Best New Cloud-Native VNF" Award
ZTE Common Core is a 5G-oriented convergent core network solution supporting the full access of 2G/3G/4G/5G/Fixed Network.
Based on Cloud Native and 3GPP R15 SBA, ZTE Common Core contains the convergent control plane, convergent forwarding plane and convergent user data, supporting unified resource management, unified authentication and authorization, unified user experience, as well as unified operation and maintenance.
ZTE Common Core aims to provide telcos with efficient, open and intelligent new-generation networks, meeting the diversified network requirements for large bandwidth, high reliability and low latency.
Supporting both NSA and SA networking modes, ZTE Common Core helps telcos deploy future-oriented destination networks in one step at the fastest speed and at the lowest cost, satisfying the network requirements of the Internet of Everything (IoE).
2. ZTE CloudStudio Automation Solution Won the "Best New Automation & Management" Award
ZTE CloudStudio automation solution provides telecom networks with end-to-end Cl/CD (continuous integration/continuous delivery) and big data processing capabilities, achieving automated network operation and maintenance (O&M).
Based on AI technology and microservice architecture, ZTE CloudStudio automation solution enables automated deployment, automated provisioning, automated testing, and automated O&M.
By virtue of its openness, ZTE CloudStudio automation solution can be flexibly deployed in any telecom cloud or public cloud. It is compatible with industry's mainstream test component libraries and open source testing tool sets.
Therefore, ZTE CloudStudio automation solution can greatly enhance the OSS efficiency, and achieve a more agile and intelligent process from online network design to automated provisioning.
3. ZTE 4MIX Distributed Cloud Solution Won the "Best New Cloud Infrastructure" Award
To address the challenges resulting from 5G, such as high bandwidth, low latency and massive application scenarios, ZTE proposed the efficient and flexible 4MIX distributed cloud solution. It creates the optimal configuration for excellent user experience and precise deployment to meet all the requirements of 5G networks.
Based on the most popular distributed deployment architecture with "Center + Edge + Access" data centers (DC), ZTE 4MIX distributed cloud solution provides 5G services with flexible matching and effective operating cloud infrastructure.
ZTE 4MIX distributed cloud solution features the ultra-convergent integrated deployment, dual-core engine cloud platform, high-performance resource pool, and unattended O&M.
As a green, flexible, agile, secure and reliable solution, ZTE 4MIX helps operators establish an ultra-speed, large-capacity, and intelligent new-generation communications and information network infrastructure.
4. ZTE TECS CloveStorage Won the "Best New Open Source Product" Award
ZTE TECS CloveStorage is a Ceph-based carrier-grade distributed unified storage system featuring high performance, high reliability and high expansion.
ZTE TECS CloveStorage enhances the open source architecture, improves the storage management function and performance tuning so as to meet the demands for telecom cloud network deployment in the CT scenario.
By means of fast planning and deployment, ZTE TECS CloveStorage simplifies management and maintenance, saving O&M labor; with elastic scale-in/out, it achieves cost predictability in the expansion process.
ZTE ranks top 3 in the three consecutive commercial community versions. As one of the first teams engaged in Ceph R&D in China, ZTE has several community-level expert developers, and made great contributions to the open source community.
5. China Mobile and ZTE's vBRAS Solution Won the "Best Network Edge" Award
To address the problems of the traditional BRAS, such as low resource utilization, slow service provisioning, and complicated O&M, ZTE launched the carrier-grade vBRAS, which echoes China Mobile's proposal of innovative vBRAS based on C/U separated architecture.
By virtue of high scalability and reliability, ZTE's vBRAS solution can meet operators' requirement for large-scale MAN services and it is capable of replacing the traditional BRAS.
As the most suitable solution for operators, ZTE's vBRAS can be widely applied. It helps operators build up a virtualized MAN with high efficiency and at a low cost.
6. ZTE CO Re-Architecting Solution Won the "Best New Edge & Access Solution" Award
To help operators utilize their prior investment by reusing the existing CO and equipment resources, ZTE proposed the CO Re-Architecting solution to reactivate the resources to meet the future 5G service requirements.
ZTE CO Re-Architecting solution covers the three key elements of edge CO re-architecting, end-to-end dynamic service orchestration and CUPS-based vBRAS deployment.
The solution can help operators save the network resource by 40-60% while shortening the service provisioning time, significantly improving the O&M efficiency.
Based on the open interfaces defined by open source organizations, ZTE CO Re-Architecting solution helps build up a healthy business ecosystem. Therefore, ZTE CO Re-Architecting solution is an optimal choice for operators to achieve edge CO transformation.
By now, ZTE's ElasticNet telecom cloud solution has been deployed in more than 360 commercial and PoC projects worldwide.
ZTE cooperates with global major telcos and actively participates in standards organizations and open source communities, such as ETSI, 3GPP, ONAP, OPNFV, OpenStack, OpenDaylight, and CNCF, to jointly build up an open and win-win industrial ecosystem.
About ZTE
ZTE is a provider of advanced telecommunications systems, mobile devices, and enterprise technology solutions to consumers, carriers, companies and public sector customers. As part of ZTE's strategy, the company is committed to providing customers with integrated end-to-end innovations to deliver excellence and value as the telecommunications and information technology sectors converge. Listed in the stock exchanges of Hong Kong and Shenzhen (H share stock code: 0763.HK / A share stock code: 000063.SZ), ZTE's products and services are sold to over 500 operators in more than 160 countries. ZTE commits 10 per cent of its annual revenue to research and development and has leadership roles in international standard-setting organizations. ZTE is committed to corporate social responsibility and is a member of the UN Global Compact. For more information, please visit www.zte.com.cn.