For the first time in the industry, the 5G intelligent engine NWDAF is being utilized for intelligent energy-saving capabilities in UPFs
The comprehensive power consumption of intelligent green UPFs is reduced by over 25%, compared to UPFs without energy-saving mode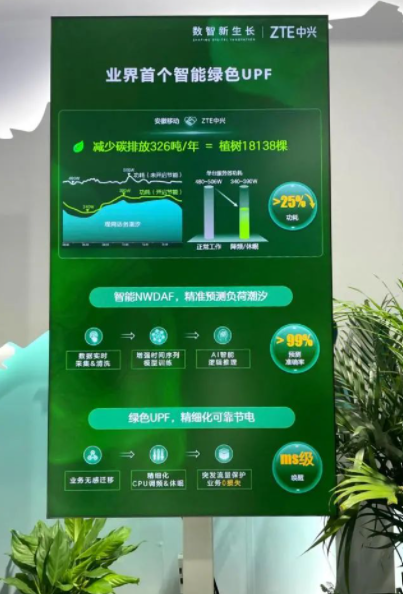 Shanghai, China, 28 June 2023 - ZTE Corporation (0763.HK / 000063.SZ), a global leading provider of information and communication technology solutions, has collaborated with the Anhui branch of China Mobile (Anhui Mobile) to jointly launch the industry's first intelligent and green UPF based on R17 technology. The launch took place at the MWC Conference 2023 held in Shanghai, with the aim of promoting the green transformation of networks and building green digital bases for the low-carbon development of various industries.
To enhance the service experience, UPFs in the 5GC have transitioned from the center to the edge, resulting in a substantial increase in their numbers. This presents a common challenge for operators and equipment manufacturers in implementing intelligent power-saving measures to reduce energy consumption during low-traffic periods, thereby promoting energy efficiency and environmental sustainability in numerous city edge equipment rooms. ZTE and Anhui Mobile have conducted innovative research and practical experimentation to address this challenge.
In an industry-first approach, ZTE and Anhui Mobile have leveraged the 5G intelligent engine NWDAF in collaboration with UPFs to enable intelligent energy-saving capabilities. This involves utilizing advanced time series algorithms for model training and reasoning to accurately predict service tides and resource requirements. When the system anticipates a forthcoming low-traffic period, it automatically implements service migration, intelligent CPU frequency reduction, and core sleep without any experience impact.
Moreover, in scenarios with sudden bursts of service traffic, the UPF supports millisecond-level self-wake-up, enabling rapid handling of burst services with no data loss and ensuring dependable energy savings. This pioneering solution demonstrates ZTE and Anhui Mobile's commitment to technological innovation and their contribution to energy-efficient practices within the telecommunications industry.
ZTE and Anhui Mobile have verified the commercial feasibility and energy-saving effect of intelligent and green UPFs based on the data model of the existing network. The results show that the power consumption of UPFs changes closely with the load tidal change, and the comprehensive energy consumption is reduced by more than 25%, resulting in a significant energy-saving effect.
Moving forward, ZTE will stay committed to further advancing its research in energy-saving technologies, forging stronger industrial partnerships, and actively implementing practical measures. The objective is to assist operators in constructing end-to-end low-carbon networks and propel the industry towards a future of green and sustainable development.