Recently, Intel held the "Regarding Data as the Center for Helping Industry Transformation – Intel® Xeon® Scalable Platform User Experience Sharing Session" at the Beijing World Trade Center. As an important strategic partner, ZTE shared its collaboration results based on Intel's latest Cascadelake CPU+ Optane™ DC-level persistent memory applications, continuously improving the performance and efficiency of servers and storage, and helping enterprises dig deeper into data value.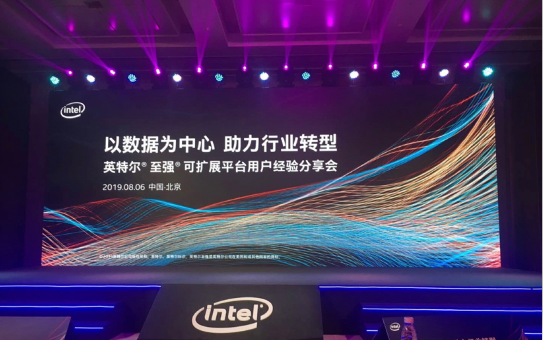 ZTE's servers, which have fully supported Intel Optane™ DC-level persistent memory, are oriented to the carrier and enterprise service markets for high-performance and high-availability requirements.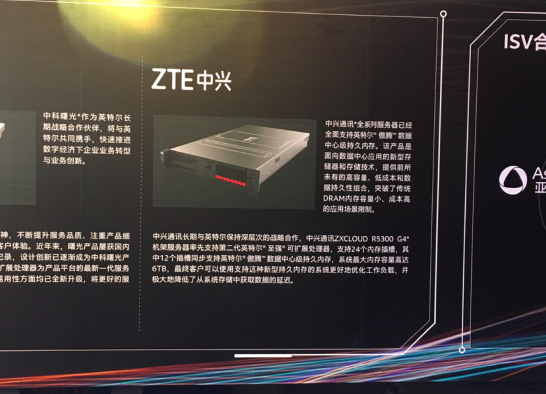 Intel Optane™ DC-level persistent memory represents a new type of memory and storage technology specifically designed for DC applications. Unlike traditional DRAM memories, Intel Optane™ DC-level persistent memory changes the design rules of applications and systems to provide an unprecedented combination of high capacity, low cost and data persistence, radically breaking through the usage restrictions of traditional memories in the past over 50 years, such as small capacity and expensive cost.
ZTE's 2U2Socket rack server R5300 G4 is designed to support 24 DDR4 DIMM slots, 12 of which support Intel Optane™ DC-level persistent memory, with a maximum memory capacity of 6TB (3TB per CPU socket) . Ultimately, customers can better optimize workloads with systems that support this new type of persistent memory and dramatically reduce the latency of getting data from system storage.
These benefits of Intel Optane™ DC-level persistent memory will have a significant impact on actual DC operations. With respect to memory-intensive workloads, Intel's persistent memory enables a higher memory capacity. More software service instances can be provided under the same service level agreement (SLA) performance than systems configured to use only DRAM. In a virtualized environment, the same hardware budget can provide more memory space, and the number of virtual machines is at least 1.2 times higher with the SLA unchanged.
ZTE has maintained a deep cooperation and communication with Intel for a long time. ZTE's ZXCLOUD series servers and storage, which are based on Intel's Purley platform and equipped with Intel Optane™ persistent memory solution, meet customers' ever-increasing performance and efficiency requirements, and help customers get more value from them.