In the 5G era, services such as AR/VR, industrial automation and unmanned driving have brought high bandwidth and low latency network requirements. New services impose more and more strict requirements on bandwidth, delay, and security, and the original centralized cloud computing deployment mode cannot meet service requirements.
ZTE Common Edge is such a powerful platform that can effectively solve the problems such as network delay, congestion and security in the future. The Common Edge effectively integrates wireless network and Internet services, and provides cloud computing and wireless network capability for the third party services at the network edge. Services are deployed at the edge to reduce data transmission, improve data security, reduce end-to-end delay, and bandwidth usage. ZTE Common Edge solution includes the MEP capability exposure platform, dual-engine-driven lightweight edge cloud and full-scene MEC hardware.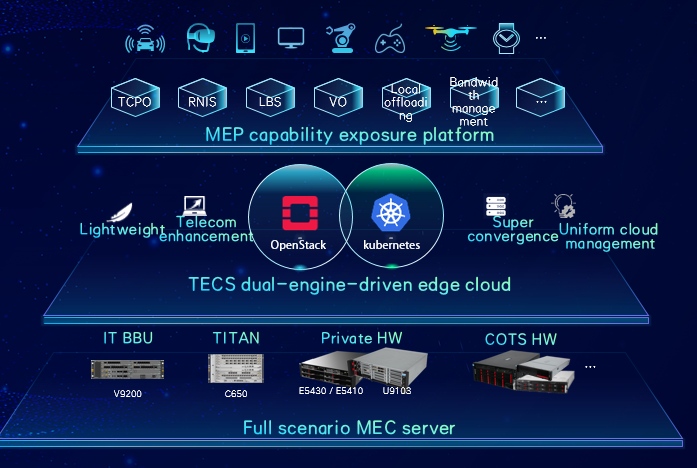 Figure 1: Common Edge Solution
Full-Scenario MEC Hardware to Achieve Full Network Distribution
MEC can be flexibly deployed in accordance with different service scenarios and delay requirements, usually be deployed in access equipment rooms, convergence equipment rooms, and municipal core equipment rooms. The full series of ZTE MEC servers can match with different application scenarios to achieve the best performance and cost matching.
IT BBU hardware: IT BBU hardware V9200, embedded MEC board, no extra space required. The application scenario is as follows: Wireless positioning, supporting 10,000 users per board. Wireless TCP optimization, supporting 5-6Gbps/board;
TITAN series hardware: OLT hardware C650/C600. Adding boards provides the computing for MEC services. In the application scenario such as CDN service offloading, the throughput of the 30 G/board can be achieved.
Private MEC server: For the small edge DC space, provides E5410/E5430 450 mm short chassis server, and the front leading-out design is convenient for maintenance. The E5430 server at 3U3 supports a maximum of 168-core CPU and 54 pieces of memory. It is suitable for intensive computing services such as AI and IoT. E5410 server 3U1 node, which supports a maximum of 12 PCIe slots to meet the requirement of edge hardware acceleration and expansion, and is mainly used in the AR/VR scenario.
General COTS server: Servers such as E9000 and R5300, suitable for deployment in equipment rooms with good equipment room conditions.
In addition, due to the large number of DCs at the MEC edge, location offset and deployment difficulties, ZTE Common Edge indoor integrated cabinet implements one-stop MEC deployment. The integrated cabinet pre-integrates servers, switches, firewalls, and MEC software. It is used when the cabinet is powered on and supports 20 G forwarding capability. Integrated cabinets are operated and maintained in a centralized manner, and are not attended locally.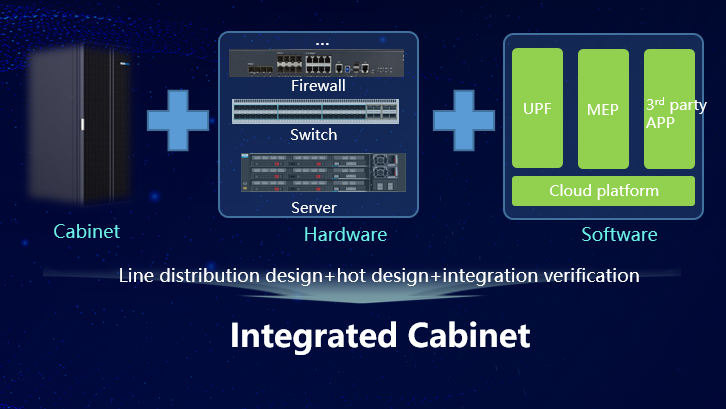 Figure 2: Common Edge Integrated Cabinet
Dual-engine Driven Lightweight Edge Cloud with Unattended Local Service
Due to the limited environment of the edge site equipment room, the MEC edge cloud is usually deployed with a small scale and a small number of servers are deployed on a single site. Therefore, the hardware resources that can be provided are limited, and edge clouds need to be lightened.
Therefore, ZTE uses the lightweight dual-engine edge cloud technology to provide lightweight, flexible, and efficient VMs, containers, and bare metal resources for edge applications, so that IaaS resources can be opened. The dual-engine integration of OpenStack and Kubernetes provides operators with a unified view of edge cloud management and services. In addition, abundant cloud native technology stacks are introduced to edge applications to facilitate rapid iteration innovations of edge applications and provide users with consistent edge cloud experience. The lightweight dual-engine edge cloud can be deployed in multiple forms to flexibly meet the deployment requirements of various resource scenarios. In addition, the NFV infrastructure service framework can be shared to enable operators to smoothly evolve into the Cloud Native phase with low costs, thus meeting the edge computing requirements for ICT convergence.
In addition, ZTE has thinned the MEC edge cloud and deployed it in a light way to reduce the resources occupied by the platform and management modules, and improve the resource utilization of the edge cloud. By simplifying management components and co-located with computing nodes, lightweight edge cloud can save 60% management resources, greatly reducing the resource requirements on edge cloud and improving the management efficiency of edge cloud. The AI-based unified cloud management platform of MEC provides unified management of the central cloud and edge cloud to implement unattended edge and automatic O&M.
Capability Exposure Platform, Exploring the "First Hop" Value of Networks
For operators, MEC should consider how to give full play to the advantages of mobile communications networks, and take CT capabilities as the focus to provide a unified MEC platform for ICT integration. MEC provides special CT wireless network capabilities.
ZTE Common Edge provides the wireless network capability exposure services.
Network capability exposure: It supports multiple systems such as 4G/5G/WiFi and provides local traffic offloading capability. It supports NAT, virtual firewall VFW, DNS and LB.
Wireless sensing capability exposure: Provides LBS, RNIS, TCPO, VO, bandwidth management and service routing rules. These services are provided through the network capability exposure framework through the API interface.
Application enablement: Provides video identification service, low delay video service, IoT equipment management service, and supports the third party service integration. The edge service capability layer uses the micro-service framework design and new capabilities can be introduced as service requirements change.
Actively Exploring Business Modes and Building an Open Ecosystem
At present, ZTE has worked closely with global mainstream operators to carry out various pilot projects such as smart business, smart campus, smart factory, VR/AR and automatic driving, and has accumulated rich experience in networking deployment and implementation.
For example, based on ZTE Common Edge, Guangdong Mobile verifies the MEC service in the four-level architecture: Service convergence equipment room, common convergence equipment room, important convergence equipment room and city core equipment room.
Verify the ultra-low-latency services in the service convergence equipment room within 10 ms, such as IoV road coordination and remote control. Verify cloud games and low-latency services within 20 ms in a common convergence equipment room. Verify large bandwidth services such as live video broadcast, face recognition, and DPI service recognition in the backbone convergence equipment room. Verify the intelligent logistics service in the core equipment room.
This pilot verifies all aspects of the pre-commercialization of the SA networking, construction mode, edge service application scenario, and cooperation mode with the third party.
ZTE is always committed to providing assistances for operators in digital transformation, helping them build traditional mobile networks into intelligent networks, and providing more personalized services for different types of consumers at the network edge. Up to now, ZTE has worked with more than 100 strategic partners and more than 300 industrial users to accelerate the penetration of 5G into all walks of life.